At INTX, we are very familiar with UK inbound travel. The UK is popular both with individuals looking to explore and experience the UK by themselves and with large groups that maybe be following a structured travel plan.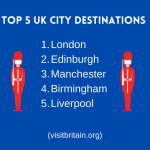 From Buckingham Palace to the Beatles, it's easy to see why these cities are so popular with those visiting the UK. We have worked very hard at INTX to connect ourselves with the best transport partners and tour groups in these cities. We can help those unfamiliar to the UK have a time they will never forget. Whether it is visiting tourist attractions or a major sporting event; we have got the details down to a T.  
We have worked with private tours and groups for over 20 years, and we know what it takes to have a great time. You do not have to worry about your transport needs with us. We make sure that you are where you need to be when you need to be no matter the size of your travel group. The tour and travel companies we have partnered up with are extremely knowledgeable on the cultural heritage of each of the top cities in the UK.